Copywriting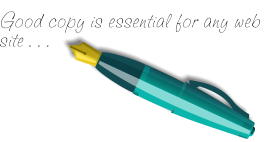 Good copy is essential for any website. Design alone is never enough. Giving just the right amount of clear, concise information to captivate the viewer and draw them in to find out more. If you provide too much detail, the viewer will just get bored.
It is common knowledge that when you read articles on the web there is a tendency to scan rather than read and it is therefore important that the salient information is contained within the first couple of paragraphs of any page, but especially your home page.
It is only if the viewer has been captured that they will read beyond this first paragraph of your home page before moving on to another page or another site. The following paragraphs can contain a more detailed information.
So if you've got this far I've managed to capture your interest!
A couple of the sites I have designed to date have required this skill, due to the client being too busy or not confident enough with their writing skills to tackle this realm.
Previous experience has enabled me to compile copy from existing marketing literature, relevant leads or simply talking to the client in order to write the copy. This can then be returned to the client for proof reading and approval, or even changing to their own style, before inclusion on the site.